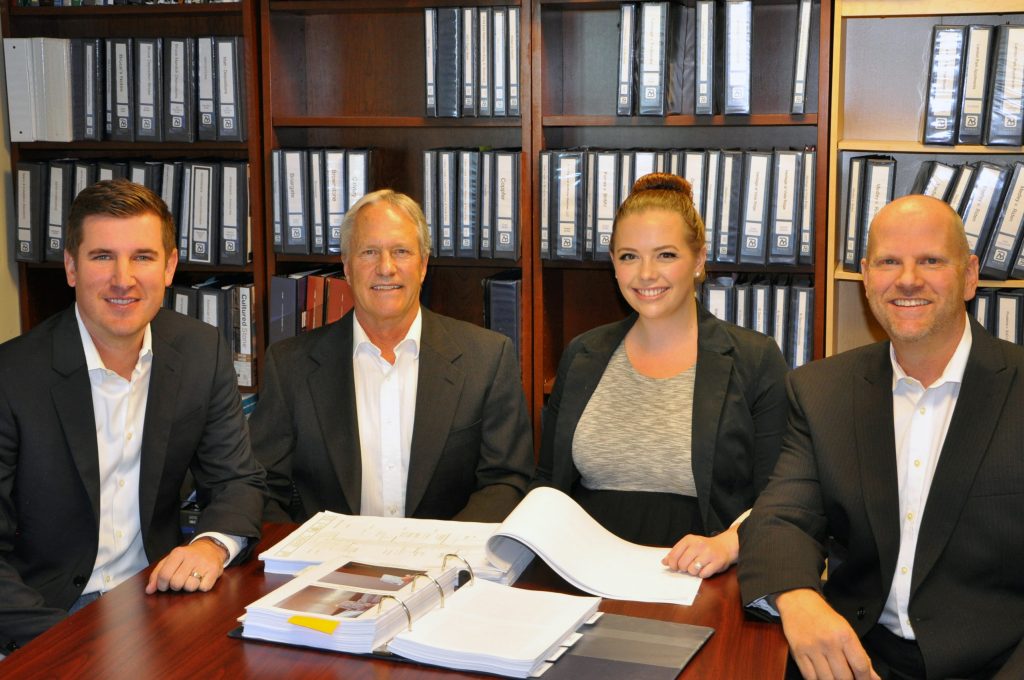 (Pictured, left to right: Matt Friesleben, Bruce Mardick, Hayley Faith, Craig Luckner)
Bruce Mardick, Director of Operations, Colorado
Bruce Mardick, Director of Operations Colorado, is a Class B licensed General Contractor. Bruce has over 42 years of construction industry experience. From General Contractor to Homebuilding Supervisor to Senior Vice President of Operations for premier Colorado development companies, his experience is hands-on, extensive and diverse. As a professional, respected and acknowledged leader in the Colorado construction industry, Bruce was asked to testify before Colorado House and Senate committees on House Bill 1161. Bruce has extensive deposition and trial experience.
College Education
1977 University of Colorado, Boulder CO
Bachelor of Arts in Philosophy
License/Year
General Contractor
CO: Class B (Denver)
CO: Class B 00000712 (Longmont CO)
Professional Experience
Construction, Operations, Project Manager, Construction Claims, Code Training, OSHA Training, Air Quality and Mold starting in 1973
Expertise
Construction Defect Litigation, Construction Superintendent, Project Team Manager, International Code Training, Storm Water Management & Erosion Control, Air Quality & Toxic Mold Litigation
Matt Friesleben, AIA, NCARB, Senior Architect
Matthew Friesleben, AIA, NCARB, is a B&A senior architect at the Colorado office. He has worked in the field of architecture for over 15 years. Matthew possesses architecture licenses in Colorado, Arizona, and Nevada. He holds a National Council of Architectural Registration Boards Certificate and is a licensed Class B General Contractor. Matt earned a master's degree in Architecture from the University of Kansas. Matt has deposition and arbitration testimony experience.
College Education
2002 University of Kansas, Bachelor of Architecture
2007 University of Kansas, Master of Architecture
NCARB Certified #75241
License/Year
Licensed Architect
AZ: 54597/2013
CO: 402956/2012
NV: #7362/2015
NCARB:#75241/2013
General Contractor
CO: City of Aurora 8Lp5918 00 5L
Professional Experience
Architecture, Construction Defect Investigations
Expertise
Architecture Construction, Forensic Architecture
Craig Luckner, Senior Estimator, General Contractor
Craig Luckner is an Estimator for Buckles & Associates, Inc. in the Denver, Colorado office. His primary responsibility is preparing cost of repair estimates for various types of residential and commercial construction projects. Craig graduated from Kansas State University in 1993 with a B.S. in Construction Science & Management. Since then, he has gained 23 years of experience and knowledge managing and estimating various types of construction projects in multiple states including Colorado, California, and Nevada. In 2010 he also started, owned and operated his own construction consulting firm.
College Education
1993 Kansas State University – Bachelor of Science in Construction Science & Management
License
General Contracter
CO: B #817347/2016 (Jefferson County)
Professional Experience
Construction Management and Estimating experiences since 1993, Construction Defect estimating since 2014
Expertise
Construction Defect Site Inspection & Forensics, Cost Estimating
Support Team
Hayley Faith, Technical Support
Hayley Faith has been with B&A for 2 years providing technical support in the Denver office.  She holds a Bachelor's of Science in Human Development and Family Studies from Auburn University.  With her experience in office management, Haley helps prepare, gather, record, and organize evidence compiled by Architects, Attorneys, Contractors, and Estimators to utilize in construction defect cases as well as supporting the team in preparation for depositions and testimonies in a court of law.